CHAT Beijing 2016: China Hospitality Regenerative
By Phil Butler, Partner at Pamil Visions Public Relations
Today was the final day of the CHAT Beijing 2016 hotels and tourism conference. The meet-up, at Sofitel Wanda Beijing, saw some 650 plus delegates gather to discuss, network, and create a genuine dialogue for future Chinese hospitality growth and innovation. Here's a short take on the conference's importance, and key takeaways from some of the executives attending.
For those unfamiliar, CHAT Beijing is a natural progression born of the China Tourist Hotel Association. In fact, the summit is organized by this group, along with STR Global, and Horwath HTL. With a set dogma of networking for creative dialogue and business, the CHAT event is the growing offshoot of the China Hotel Development and Financing Conference, which has been in existence for more than a decade. In short, this is where Chinese domestic hotel owners and decision makers meet with global brands and key innovators, in order to empower China hotels and tourism forward.

It was Horwath HTL, which had the initial idea of creating the new brand identity – CHAT, an event designed to fast forward China's tourism sector via knowledge and experience dissemination. CHAT, short for China Hotels and Tourism, is something of an unknown in western circles, but an opportunity the big brands like Starwood, IHG, Wanda, Club Med, Wyndham, Carlson Rezidor, and etc. fully recognize. The speakers list is a literal "who's who" of Asia decision makers like; Starwood's Kevin Colket, Head of Hotels Asia; Jin Qian, President of Wanda Hotels & Resorts; Club Med's Head of Development in China, Min Wu; Club Med VP, Development, Greater China; and many more.
But as prestigious as the attendees list may seem, it's the news brought forward with clarity that should be most impactful. Two fundamental information takeaways I discovered are, the misinformation where China's economic situation is concerned, and the pace at which traditional Chinese business is a metamorphosis toward new age millennial progressiveness.
Looks pretty busy to me. pic.twitter.com/jyZQ4xrCh5

— Horwath HTL (@HorwathHTLcorp) March 22, 2016
I was taking a look at the Tweets from Horwath earlier, and discovered from their short takes, the still thriving developmental sector in China via their feed. Tweeting from CHAT, the team at Horwath also told of the conference's hot topic, hotel asset management, a topic that is sizzling in ever hotel back office. Their synopsis on the conference seems to boil down to a big emergence from 3 and 4 star brands across China in the next 5 years or so. I spoke with James Chappell, Global Business Director at Horwath HTL, on his take from the point of view of China hospitality at this juncture; here is what he had to say:
"If you never came to China, but relied on western media for your information, you might get an idea of a country struggling with massive financial issues. The reality though, is far removed from that easy sound bite. Its clear that oversupply in the sector has caused issues over the last couple of years, but demand is catching up and performance data indicates a robust market. We see Asset Management as the logical next step in an industry that has matured and is looking for ways to maximize value and returns. Good asset management will take a poor hotel and make it better, and make a good hotel great. It's all about taking the underlying product and sharpening every part of the machine till it runs at maximum efficiency. This is where the industry needs to go over the next 5 years or so and early indications are that the market is beginning to realize that."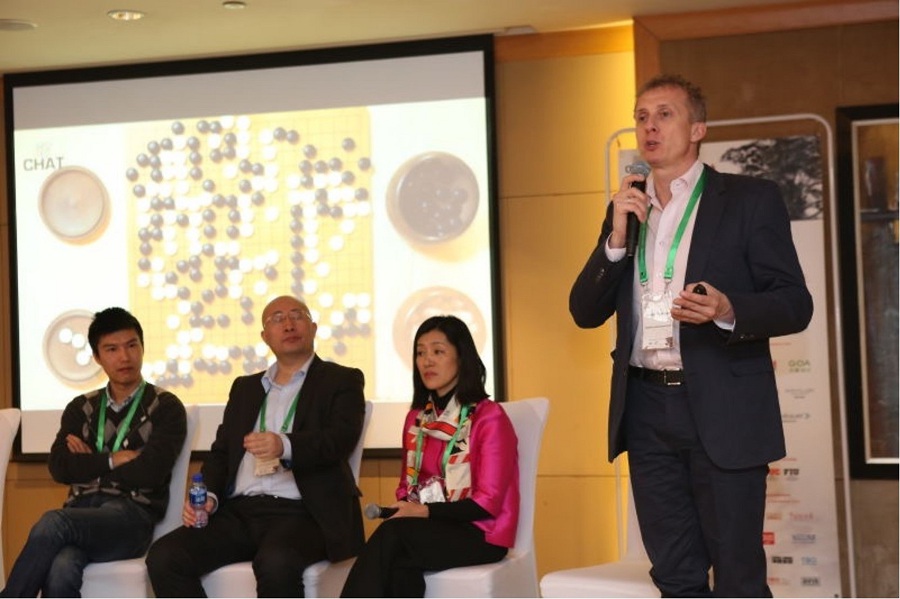 CHAT Beijing 2016: China Hospitality Regenerative
From the right - SnapShot's, Dr. Stefan Tweraser (far right) with Min Wang, VP of Shiji Information Technology (Beijing), Michael Zhu, VP of Interstate China Hotels and Resorts, and Vingo Fu, the New Century Hotels & Resorts CIO
CHAT this year was not simply about a redux of hotel industry meets globalization. The theme of "regeneration" resonates in what we hear coming from participants and key speakers. In a very real way, this conference is a systemic example of how traditional hotel business is passing the torch, so to speak, to a new generation of hoteliers and entrepreneurs in tune with a digital age, and with the ecosystems cropping up in other regions. I was able to grab a comment from CHAT speaker, CEO of ITB Berlin sensation SnapShot GmbH, Dr. Stefan Tweraser (above), on how cutting edge technology and innovation is being adopted by this new generation. Here's what the former Google Germany director told me:
"CHAT Beijing has been a great networking and learning experience. The Asian hotel market is so diverse and dynamic, great personalities shape the future of the industry in this region. China brings a lot of innovation and forward thinking to the region and the world. Snapshot has been very well received – smart hotel analytics certainly did strike a cord with local leaders. CHAT provided a great platform for our product."
So the message is Chinese hospitality regeneration is underway. Just why it is news from the China and the region is not broadcast so accurately or vociferously is, to be honest, puzzling for this writer. In fact, as of this report, there are only two such stories on this important summit in English that I know of, and I wrote both of them. Curiosities aside, what James Chappell said about misperceptions translates into both advantage, and disadvantage where our businesses are concerned. Most hoteliers in Europe are tightly focused on attracting Chinese tourists, even Chinese investments in operations here. But not too many seem so focused on the overall picture, the reciprocal nature of business, and especially not the cultural and functional aspects of globalization. Technology ends up being a barometer, in a way, that reveals the forecast for business growth. But then so does Chinese conservative business willing to move forward faster, with a new generation of actuaries, doers, executive, and eventually leadership. My take is, CHAT Beijing 2016 broadcast this dialogue. And since you've read this, perhaps the conversation is up to you?
Contact
Phil Butler
Senior Partner
Send Email