A Talk with Kira Zakharova of Villa Elena in Yalta
By Phil Butler, Analyst and Editor in Chief at Argophilia Travel News
Search online for the term "iconic hotels" and you will find scores of fabulous properties like Belmond Hotel Splendido in Portofino in Italy, to Laucala Island in Fiji. Through some quirk of fate or careless oversight all the luxury hotel experts somehow missed the gem of Yalta, Villa Elena. What follows is a very abbreviated history of the hotel, followed by an exclusive interview with the hotel's Director, Kira Zakharova.
The story of this magnificent Russian Riviera stay goes back to the middle of the 19th Century and a land purchase by the spouse of the artist Miasoyedov – Elizaveta Mikhaylovna, who bought the estate of one Prince Golitsyn, of one of Russia's most noble houses, and the founder of the famous Abrau-Dyurso wineries. The hotel's director tells us more of its fabulous history, but Villa Elena, situated along the Yalta sea-front promenade, certainly marks time in Yalta. A seven year refurbishment was completed in 2007. Last week I quizzed Ms. Zakharova about Villa Elena's offerings, and what the future holds for one of the world's most interesting hotels.
Phil Butler: The history of Villa Elena is fascinating; in fact, the hotel is one of the few I have found with its own Wikipedia page. How important do you think it is to maintain history and tradition for this magnificent hotel? Do you find that guests enjoy learning about the hotel's history?
Zakharova: Villa Elena occupies a unique space with its history, atmosphere and a special charm. Architect Lev Shapovalov, who designed the house of famous writer Anton Chekhov, constructed the building after the fashion of the best foreign hotels. The four-storeyed mansion in Art Nouveau style was ready in autumn 1912. Today Villa Elena is a landmark. I am pleased that this year the Hotel was included in a Crimea promo video along with the Swallow's Nest Castle, Vorontsov and Livadia Palaces and other famous places of interest. Villa Elena is a combination of special mood, exceptional luxury and perfect taste – all that makes the Southern Coast of Crimea so special. Guests learn about the Hotel's great history with interest. Gentle reconstruction has preserved the initial nobility of the mansion and, simultaneously, added the hint of modernity to the building. The Hotel is included in the town tour programme. Villa Elena's century-old history is our proud and, at the same time, a huge responsibility.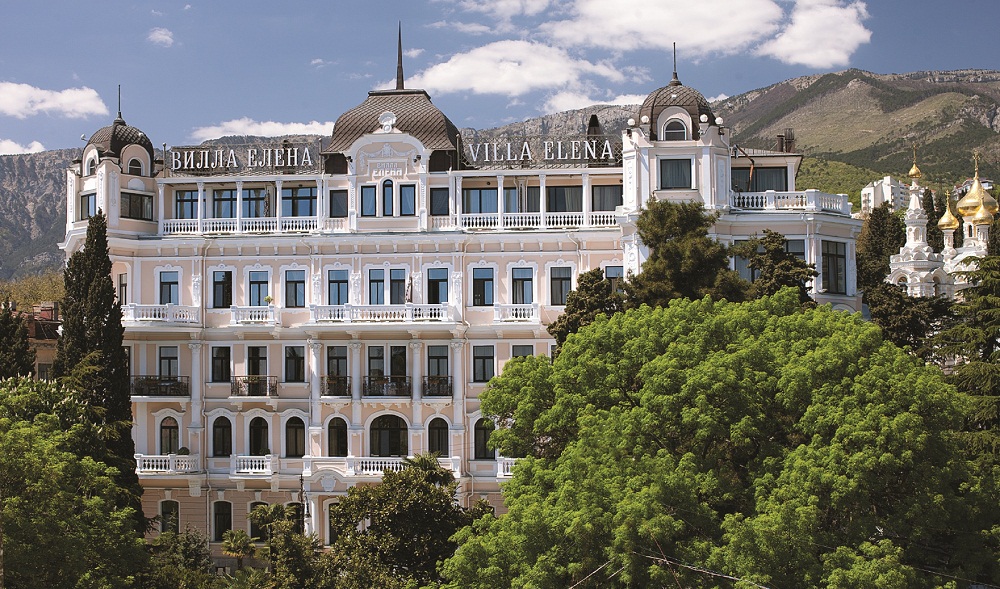 Villa Elena in Yalta
We keep the best hospitality standards and obey historical traditions – perfect service in details, high cuisine, and elegant interior. However, we keep an open mind too. We improve the infrastructure and service and form the basis of new contemporary traditions to show the right way to our future generations. This includes the "Full service" concept, brand new standards of social and ecological responsibility, and social activities. Four years ago, the Hotel launched its own art gallery "Pocherk", which holds Christmas opening days, charity auctions, and exhibitions of Crimean and foreign artists. Along with regular exhibitions, the art gallery focuses on interregional projects of cultural exchange directed to the integration of Crimean art in Russia's informational and cultural space, such as plain-air painting, concerts, sculpture workshops, programmes of theatre exchange and many other activities.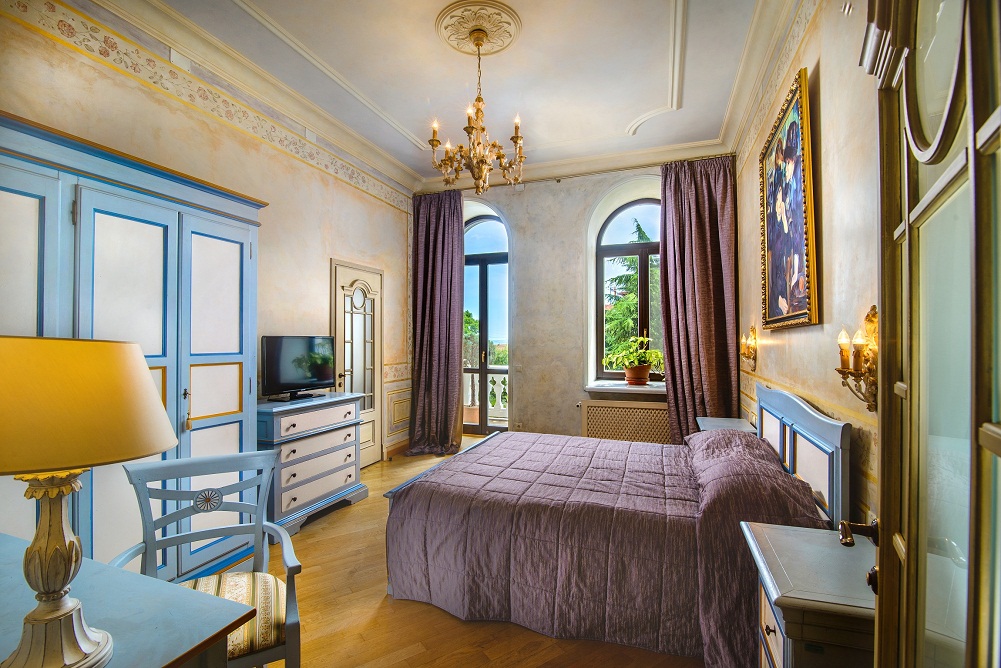 One of the sumptuous rooms of Villa Elena
Phil Butler: Visitors to your website will take note of the fabulous apartments available for sale at Villa Elena. How many residents, as opposed to short-term guests are there right now?
Zakharova:
Our guests can acquire the ownership of apartments in Villa Elena's historical mansion. Each person who ever crossed the Hotel's threshold stayed impressed by the nobility of the interiors and by the level of service, and dreamt about spending more time in this perfect world, far away from the hustle and bustle of the city. Our task is to make these dreams come true. On the whole, there are 22 apartments for sale in the Hotel, a part are already sold and a part is also offered for short-term and long-term rent.
The design of each apartment is unique, but calm and functional atmosphere is common. Their finishing shows expensive materials along with moderation in design and colour palette. Italian furniture is handmade and manually aged. Art painting of the walls contributes to chamber and elite atmosphere. Kitchenettes and Old England bathrooms bring comfort and warmth. Spacious balconies present the beauty of Yalta's landscapes: the sea, the old town, the amphitheatre of the Crimean Mountains and the golden domes of Alexander Nevsky Cathedral. Harmony and authenticity of the apartments along with full five-star service exceed expectations of the most demanding guests. This season the duration of stay in the Hotel has gone up by 30% and we are pleased to observe that guests come back to us, book apartments for a year and even more, and show interest in purchasing the apartments. This trend is promising and underlines the highest level of our service.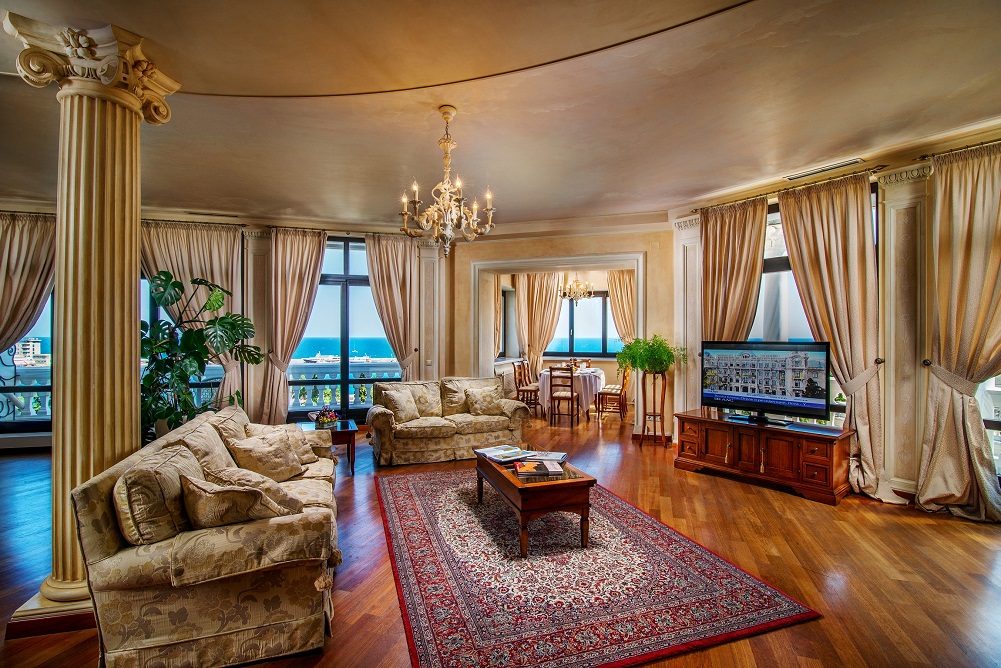 Villa Elena Penthouse
Phil Butler:
Do you have a favorite guest story that you can share?
Zakharova: The policy of our Hotel is strict confidentiality. Each guest is special for us. We carefully secure his/her private life and information related to staying in the Hotel. That is why I cannot answer your question in full measure. However, I can give you a hint – Jennifer Lopez stayed in our Hotel during her visit to Crimea for a private concert. I am sure she will share her impressions with you.
Phil Butler: Recent news about Crimea would suggest foreign travelers visit less, can you talk about the nationality or changes in your guest flows these days?
Zakharova:
Certainly, our guest flow has significantly changed with the integration of Crimea into the Russian Federation. Our market has changed. Besides, international restrictive measures and Russian policy of global import substitution redirected tourists flow towards domestic destinations. Crimea is not an exception, and today 80% of our guests are Russians. Most of them are travellers from the largest cities, such as Moscow, Saint Petersburg, Novosibirsk, Yekaterinburg, and from cities with direct air communication with Crimea, such as Krasnodar and Rostov-on-Don. Guests from Northern cities, such as Tyumen, Omsk and Surgut, also visit us in search of the more moderate climate. The remaining 20% are citizens of CIS countries and foreign travellers. Interestingly, foreign travellers are coming back. In 2015, foreign travellers were few, but in 2016, our staff were able to use their knowledge of foreign languages with guests from China, Europe and the USA.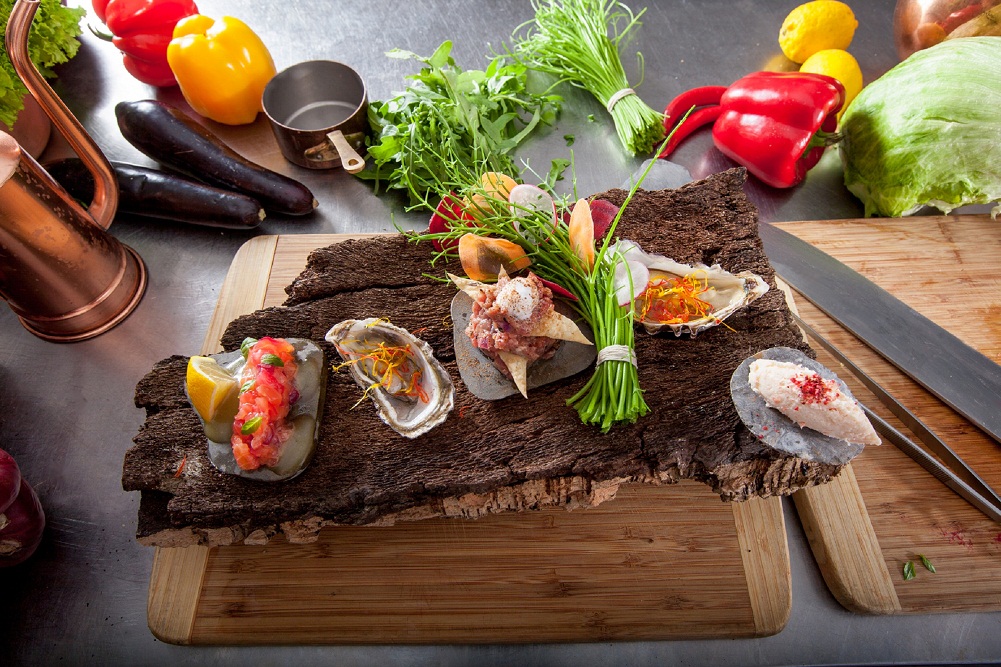 Chef Bogdan Parinov's incomparable cuisine
Another trend we are seeing is an increasing number of travellers who visit Crimea for the first time. We see this as a great responsibility, accompanied by huge risks. Guests who usually spend their holidays in Europe expect the same level of service and infrastructure from Crimea and usually are unsatisfied. High-quality hotels, such as Villa Elena, help to mediate this. We take care of all guest requirements, create a world of comfort, and render a complete and full range of services. Hopefully, other Crimean hotels will adopt Villa Elena's hospitality and perfect service soon too. The geography of tourists flow continues to expand and we welcome all who have a desire to discover Crimea at its very best.
Phil Butler:
What is the most talked about aspect of Hotel Elena in your experience?
Zakharova: Guests talk most about the essential value and prospect of the Villa Elena hotel, our perfect service. From their arrival and during all guests' entire stays, our staff – housekeepers, drivers, waiters and chefs – surround them with attention and care. Our main advantage is always staying one step ahead to predict wishes and needs. We take into account the habits and tastes of our guests, we know what kind of cereal a guest prefers for breakfast and such details as knowing the name of his/her pet. By contributing this detailed work and by choosing an individualistic approach, we give attention and understanding so missed nowadays. That is why people talk about us and we have a lot of positive feedback.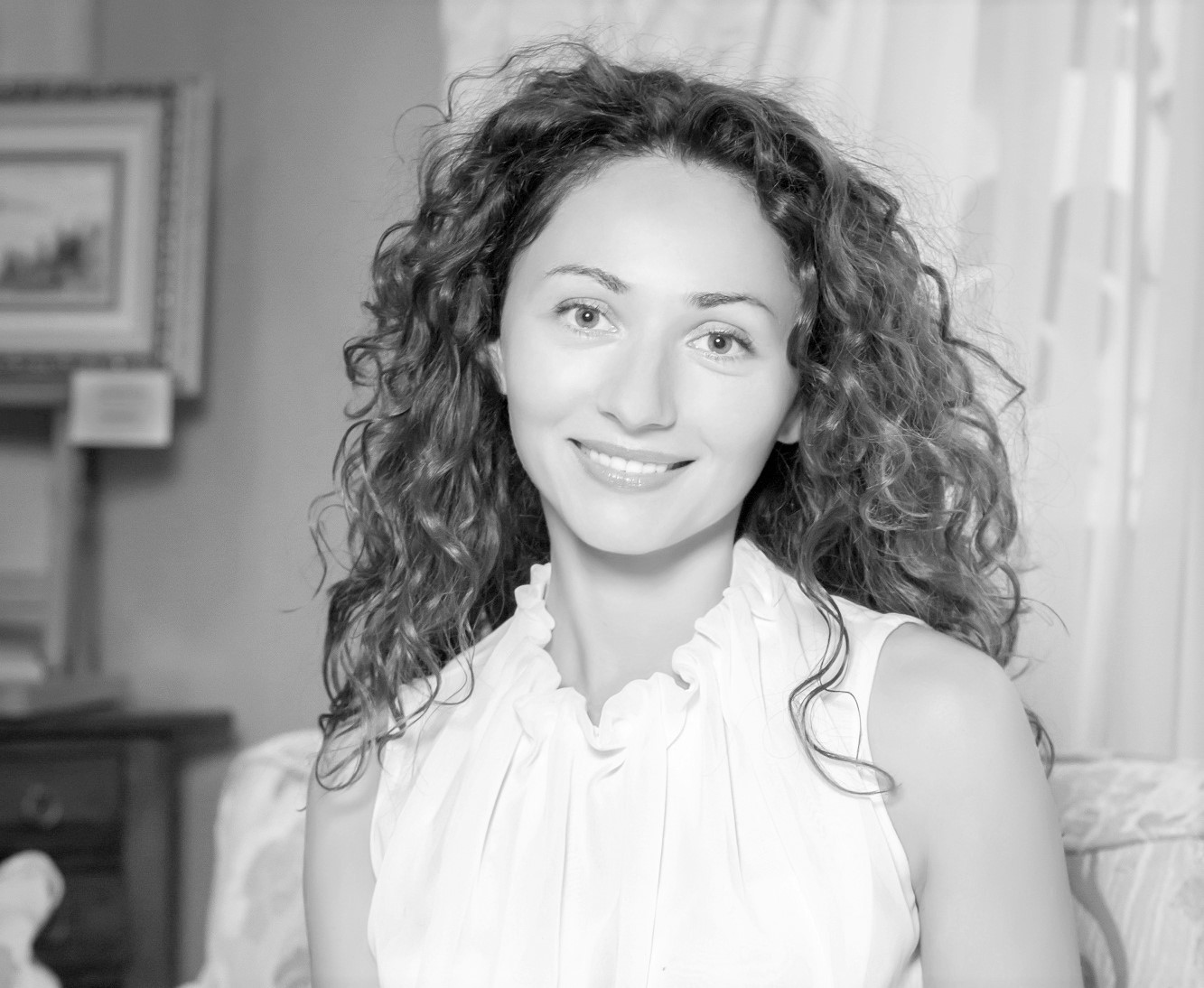 Kira Zakharova, Hotel Director
Ms. Zakharova went on to explain her experiences as Villa Elena's director. The most indicative of these was a commonality she shares with almost all the legendary hotel managers I've encountered. The common thread of seeing guests in transformation because of their experiences is a motif, a rhyme that echoes at every magnificent resort. Zakharova called this transformation "magic" which is perhaps the best was to describe watching big city stress melt into total holiday bliss. For us, this is the wonder of hospitality.
Villa Elena is situated in the middle of lush gardens only 100 feet from the Black Sea. The 13 lavish residences and 32 extraordinary rooms of the hotel are within a VIP secured compound with every conceivable amenity. The property has a heated outdoor pool, a private confectionary, a wine room with 400 items, a wellness center, conference hall, beauty salon, shops, tennis courts, and art gallery, and a lounge by the sea, just to name a few. Three restaurants overseen by brand Chef Bogdan Parinov, have two aquariums with oysters and other fine seafood, and offer cooking master classes and culinary tours.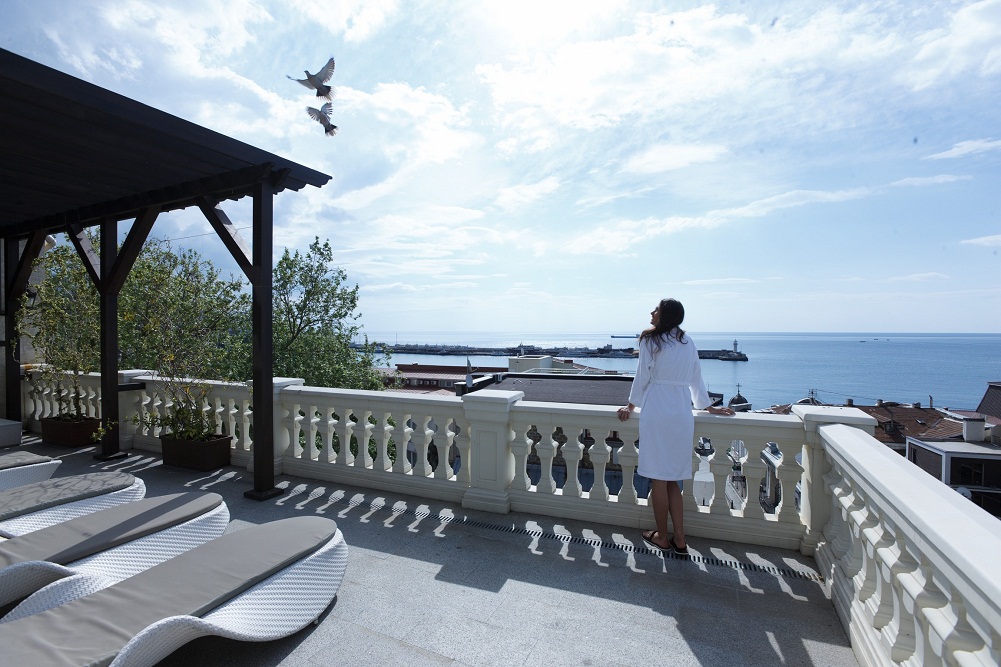 Readers interested in learning more about this unique Yalta property can contact Villa Elena directly via phone at: +7 495 241 66 66, or email the concierge directly via: concierge@villaelenahotel.ru
Contact
Henri Roelings
Founder & CEO
Phone: +31 6 5431 0152
Send Email