Revenue management & customer satisfaction: friends, foes, somewhere in between?
8 experts shared their view
In the early stages of Revenue Management, cranking up rates when the hotel was on a clear path to selling out was about all it took to be a successful Revenue Manager. But as digital transformation has taken hold in hotels, the role, and the definition of success, have evolved greatly.
Once the gold standard, technical knowledge and decent Excel skills are now table stakes. Today's successful Revenue Manager must focus far beyond forecasting and setting prices. A mastery of the constantly evolving distribution technology landscape, including a keen understanding of every step of the digital customer journey is essential to optimizing market share and total hotel profitability.
Today's customer experience begins way before the guest steps foot on property. The ease of finding information before booking, transparency and fairness in pricing, and the effective collection and dissemination of every customer's specific needs form the foundation of a successful hotel stay. And the proliferation of user generated content and review sites practically ensures that if today's guest has trouble booking your hotel, tomorrow's guest will not even try. The past practice of opportunistic pricing now often results in one step forward… then two steps back.
So, we asked our experts: What strategies and tactics are successful hotels employing to strike this delicate and crucial balance between maximizing revenue and contributing to a positive guest experience? How are Revenue Managers evolving from "number geeks" to having a key role in delivering great customer service?
This World Panel Viewpoint is sponsored by IDeaS a SAS company
More information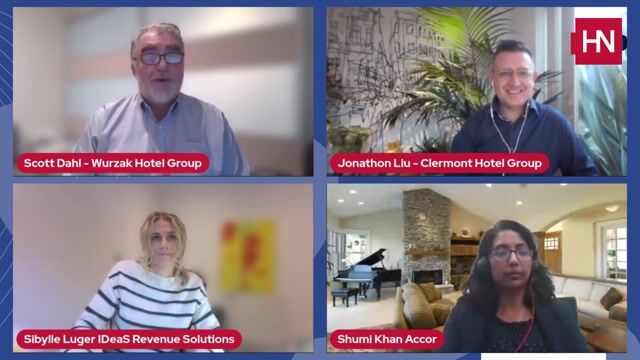 What makes a business successful? It's the flywheel of demand generation (marketing/sales), demand optimization (revenue management), demand servicing (operations), and then re-engaging with customers to create repeat purchases. I feel the question is misleading, as revenue management has always been tightly integrated with operations and making sure guest satisfaction remains high. When revenue management is done right there is no "opportunistic pricing" – only a sensible approach to pricing which considers customer demand, price sensitivity, and many other factors.

Sophisticated revenue management understands what the right price should be for "the next reservation," which will materialize and send the right controls to the various selling system (including overbooking levels, etc.) Customer satisfaction concerns might arise through selling at a price that makes it difficult for the operational teams to deliver value in the eyes of the customer. This can be avoided through the appropriate setting of ceilings in the revenue management system.

 The other customer satisfaction concern might arise from aggressive overbooking and resulting "walks" – again an area that can be addressed by managing overbooking levels and closely coordinating with the operations teams. In summary, it is a misconception that revenue management and customer satisfaction do not go hand in hand – ultimately everyone has to support their parts to keep the flywheel spinning.
A positive Guest experience is driving and maximizing revenue. Without it you are punching above your weight and possibly get knocked out faster than you can imagine. We will only know if our price is right once the customer sits back at home reflecting on the experience they had. 

From a strategy perspective you need to understand what the value drivers in your business are. What do people want to pay for and at what point do you become annyoing as you are charging for yet another thing. Look at the issued Airbnb is starting to face: Cleaning fees higher than room charges, To do lists before check out, so on so forth. The customers have always been smart and now they have the tools to beat the RM.

Please stop asking for revenue managers to now also look at delivering customer service. As an industry revenue managers haven`t even tackled the story telling nor the number crunching and we are on to the next thing for them. We need to be careful not to make revenue management bigger than it actually is as it seems to be everything and yet nothing in the eyes of hoteliers.
Today's typical online travel consumer - your past, current and future hotel guest - is exposed to more than 250,000 digital micro-moments a year: from social media interactions to messaging and quick read of the headlines on their smartphones (Google Research). This year travel consumers will spend more time on digital media - 6:58 hours/day - than all other media (TV, Radio, Newspapers, Magazines) combined - 4:41 hours/day (eMarketer).

With the explosion of the "digital way of life," the customer journey has turned into a digital customer journey that is becoming increasingly complex, forcing hoteliers to adjust their revenue management tactics, overhaul their technology stack, corporate and marketing strategies in order to engage, acquire, service and retain these digitally-savvy travel consumers across multiple digital touch points and across all digital channels and devices.

Google defines this digital customer journey as a fluid series of interconnected stages: Dreaming, Planning, Booking, Experiencing and Sharing/Retention Phases, in which every phase both influences and is being influenced by the other steps of the journey.

Traditionally, revenue managers have been involved in only one of these five phases: The Booking Phase. In my view, revenue managers should be able to understand the full digital customer journey and its five phases, and, together with the marketing and CRM teams/specialists, get proactively involved in all five phases to engage, acquire and retain the customer. 

Commercial directors/managers, overseeing all of the hotel teams/staff tasked to engage, acquire and retain the customer - revenue management, sales, marketing and CRM - play an increasingly important role in synchronizing the efforts, tactics and strategies of these diverse functions.

One of these very important tasks is to educate the commercial teams that the digital customer journey requires three distinct, but interconnected and interdependent categories: Guest Engagement Marketing, Guest Acquisition Marketing and Guest Retention Marketing and that the hotel must "play" in all of these three categories: Not in one or two, but in all three categories.

Let's review the three marketing categories:

Guest Engagement Marketing:

This category includes brand marketing, social media, PR, influencer marketing, content marketing, etc. These marketing initiatives help hoteliers connect with the online traveler in the Dreaming and Planning Phases and steer them "in the right direction" in the next phase – the Booking Phase. 

Guest Acquisition Marketing:

This category includes all Performance Marketing i.e. ROI-focused direct-response marketing formats, including: SEO, paid search/SEM, display advertising, retargeting, metasearch, email marketing, affiliate marketing, omni-marketing campaigns, etc., as well as all of the hotel website related marketing initiatives: promotional slides, special offers banners and promo tiles, limited time offers, personalization marketing offers, etc. These initiatives build upon the successful customer engagements in the Dreaming and Planning Phases and help hoteliers "close the deal" i.e. convince the online traveler to choose the hotel and a direct booking at the hotel in the Booking Phase.

These performance marketing initiatives are ROI-centric, focusing on seasonal and ad hoc occupancy needs and acquiring first-time guests. 

Guest Retention Marketing:

This category includes all CRM marketing initiatives in the pre-, in- and post-stay marketing, loyalty marketing, drip campaigns and marketing automation initiatives aimed to turn the guest into a repeat guest and loyal customer. Building upon the customer relationship established in the previous Dreaming, Planning and Booking phases, and utilizing CRM and loyalty marketing initiatives, hoteliers can win the guest loyalty in the Experiencing and Sharing Phases. 

Only through coordinated team efforts of the Commercial Team and only through investing adequately in all three marketing categories above would the hotel be able to establish relationship with the digitally-savvy customer in all phases of the customer journey: Dreaming, Planning, Booking, Experiencing and Sharing/Retention and win the direct booking, resulting in increased RevPAR and occupancy, decreased OTA dependency and lower distribution costs.
The evolution of Revenue Strategy as science more than art has certainly created further division between the needs of our owners and the needs of our customers. However, at the heart of each hotel strategy is the Long Term Value (LTV) of a customer which we now need to protect and defend at all costs. Guest dissatisfaction will eventually be reflected in online forums and affects brand service scores.

First, it starts with our website content, photography, pricing, and promotions. This all needs to reflect an accurate depiction of the hotel and the product offerings. Deceiving photos, embellished guestroom descriptions, or poorly crafted packages almost always become a point disappointment from our guest, regardless of the channel where they are booked.

Once the guest has booked a reservation, hotels should have a strong Customer Relations Manager (CRM) email and texting platform to ensure constant communication with the guest. From the pre-stay message to in-stay texts to post-stay surveys, this ensures we can address any areas of dissatisfaction before the guest leaves the hotel, or it provides a service recovery opportunity after the guest has checked out and before they are able to reflect their experiences on social media or brand surveys. Our guest cycle begins at the time of booking and does not end until the guest is fully satisfied with their stay and is willing to return or recommends other guests to stay at the property.

Lastly, we need to work with our operations partners to ensure we are able to provide fair "value" to our guests in times of compression. Do we have any added amenities or high touch points to ensure their satisfaction and acknowledge their stay? Needless to say, this is a finely-executed balance, however a well-executed communication strategy avoids commoditization of our products and services and ensures we provide long-term value to our customers. 
It's a very simple concept.

If you're priced too high - customers will be unhappy and they'll go somewhere else. Even if they book with you, they'll be unhappy because their expectations won't be in line with what you offer.

If you're priced too low - you'll sell out too soon. Customers will be unhappy again and will have to book at another property. 

Revenue Management discipline allows to solve for that by finding most optimal, competitive market price for your property on any given day. 

Everybody wins at the end of the day in a free market as prices are dictated by the consumers. 
Being in touch with the customer all along their journey, from the moment they dream at home about going on holidays, until they are back home happy after their dreamt holidays spent at your resort. 

Revenue management & customer care must work hand on hand to offer the best experience possible, while maximizing the total revenue generated.

That is possible if we personalize that communication, offering the customer no upsells or cross sells, but a better experience, an amazing time, a memorable stay with us. Our aim on this topic is to make sure every customer leaves the premises more satisfied, having spent more money.

If what we offer, every add on, really adds value, then customers will happily pay extra; because we have to remember that in most cases it's not about how much extra does it cost, but the added value it represents.
Revenue managers should consider customer relations as part of the overall strategy. You may sell a room but lose a loyal guest if the room rate is perceived as unfair. You might receive revenue from a no-show fee but again lose a valued customer who will never return. Hotels have to explain their price structures and policies in an easy-to-understand way. Also, it's crucial to emphasize value and quality rather than price. In the long run, the more loyal guests the hotel has, the more profitable it will be. Perception of revenue management tools (price discrimination, cancellation policy, rate fences, etc.) by customers has to be managed efficiently. Otherwise, a hotel might win short-term and lose in the long-term period. 

These are some action steps Revenue Managers can take:

Read and analyze guest reviews and surveys.
Work closely with the reservation department on how to communicate various policies and rate types.
Collaborate with marketing on creating segment-specific and customized offers.
Analyze the guest journey (pre-stay, stay, post-stay) and uncover opportunities to solicit feedback, create value and improve guest satisfaction.
Utilize guest preferences data from the CRM system to create targeted room, package, and ancillary offers.
Understand why the guest needs to stay in the hotel

The revenue manager needs to understand why people come to the destination and their specific needs depending on what they are doing at the destination. Most hoteliers and revenue managers do not know why the guest has come to the destination and what they will do at the destination, so they treat their guests as transactions or, in the best case, as standard guests. Hoteliers that try to understand the travel reason and the guests' needs associated with the travel reason will be able to communicate this to guests, attract them to book, charge a premium rate, sell more to each guest and satisfy their needs, so they leave happy and recommend the hotel to others. Happy guests that pay more are the dream guests of every hotelier.

Stop using systems the wrong way

Hotel revenue managers need to stop using their systems and tools in the wrong way. Do you think IDeaS, Duetto, EzRMS, Atomize, Pace, or any other revenue system understands why the guest is coming to the destination and their needs? These systems do not care about guest satisfaction. They only get heads in beds. A revenue system recommends charging a premium rate only when the demand exceeds the supply - not because of a deep understanding of guest needs and matching products. Hotels should use revenue management systems to execute a strategy - not make decisions randomly based on transactional behavior.

Segment by travel reason

Revenue managers need to segment guests based on travel reasons to the destination. The receptionist can easily capture the information through a friendly conversation during check-in, or the digitalized hotel can catch it in the mobile app. Hotels need historical data, but it is even more important to look ahead and anticipate the needs of future guests. That is where the hotel has some leverage in attracting the right guests (high spenders) and satisfying their needs.

If the first level of segmentation is why the guest comes to the destination, the second will be where they are from. Where is the guest's home has an impact on the length of stay and on the willingness to pay a premium rate. A third level might be looking at the booking window and identifying guests who plan and those who book spontaneously.

RM:s should find the right type of guests

Revenue managers cannot deliver the guest experience, but they are responsible for bringing in the correct type of guests with an excellent fit for the hotel's products and services. The hotel will then be able to serve and satisfy the guests' needs. Therefore, a positive guest experience will always maximize revenue. Only focusing on capturing the maximum number of transactions will randomly attract the wrong type of guests with limited spending power, slowly deteriorate the brand, make guests unhappy, and the employees frustrated. The conclusion is that there is no conflict between maximizing revenue and a positive guest experience.
This World Panel Viewpoint is sponsored by IDeaS a SAS company
More information