Will OTA penetration come back to pre-COVID levels?
9 experts shared their view
OTA penetration fell drastically during COVID-19 as travelers reached out directly to suppliers to allay safety concerns. But, as we return to the new normal, initial indications are that OTAs are regaining their dominant position within travel distribution.
The question is: Is this a certainty, and what can hotels do to retain their newfound market Share?
This World Panel Viewpoint is sponsored by Shiji
More information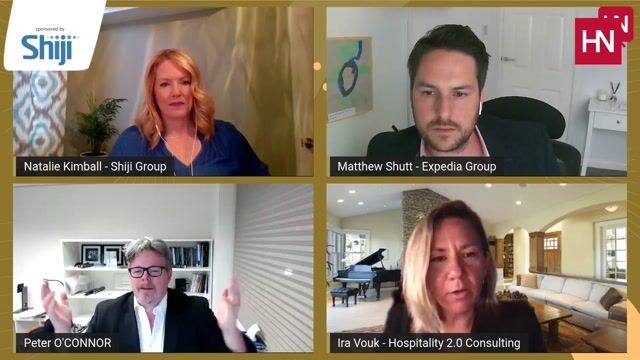 OTA penetration fell during the pandemic for one key reason: travelers could only opt for local destinations. Due to confinement and travel restrictions in a majority of countries and borders, it was just simpler to travel to local areas and regions. Do you need Expedia or Booking to reserve that week-long getaway in your own province, when you can use your own car and call hotels, inns or chalets directly, or book online with them?

As international travel resumes and more complex trips will be sought after by travelers after this two-year hiatus, I expect we will be seeing a return to 2019 levels in terms of online search for travel and reservations made through OTA. Why? Simply put, hotels have not invested enough to beef up their online presence and transactional capabilities - as shown by a recent McKinsey report demonstrating how hospitality industry is far behind in technological investments.

In fact, consulting with various hotels, restaurants and attractions, many (if not most) are confronted with shortage of labor and have been for the past 2-3 years. Keeping a dynamic presence on social media is very difficult for a majority of them, same with churning content on their blog, website or newsletters. Thus, making it difficult to stay pertinent and be found through organic search... where OTA are, and always have been, very strong, in both organic and paid content.

Therefore, I highly doubt the hoteliers will keep their newfound market share with regards to OTA. But the silver lining is that the overall sales should spike up to pre-Covid levels so hey, you can win 'em all, right?
A big reason why OTA business was down relative to direct bookings during the pandemic was OTAs sharply reduced advertising expenditures. As these budgets are reinstated, the pendulum will likely swing back to OTAs.

At the same time, a lot of travel during the pandemic was local, and travelers are presumably more comfortable booking directly with local properties. As international travel bounces back, a lot of travelers will return to the OTA brands they know and trust.

Nevertheless, hoteliers know what it takes to attract direct business: smart brand marketing, targeted performance marketing, rate parity, incentives to book directly, loyalty recognition, and concerted efforts to convert OTA guests into direct bookers on subsequent stays. Whether they will have the savvy and discipline to do so is entirely up to them. Those willing to put in the work will be able to move the needle in their favour.
I believe it is with certainty that OTAs will again built their dominance and more. Covid was like roadworks where travellers didn't travel at all or those who travelled took a detour as the "normal road" was "closed". The market is always right is a sentence often used in trading and it applies here as well. Travellers book where they want to book. Sure, those who had used direct went direct again, however now with 100s of options again open in the market the consumer has not 2 choices anymore but now needs to plough through 100 again. 
I am not sure that the word 'drastically' applies here, as that adjective is hard to quantify. This may be a short term effect, but OTAs are not going away any time soon. Any lost share will be recovered, and very quickly. Consumer habits do not change overnight. OTAs are expert digital marketers; most hotels less so. OTAs allow for one-stop shopping: air flights, car rental, and accommodations. I do not know of a single hotel that affords the consumer with same ease of travel planning/booking. In particular, it appears that flight availability is going to be the constraining factor, less so accommodations. This being the case, expect leisure travelers to book air first, further embracing the OTA model.
OTAs are every hotelier's very best frenemy. They're always there for us… for a price. Sometimes that price is worth it. Other times, not so much. Instead of asking "Will OTA penetration come back to pre-COVID levels," I'd ask "Why won't they?"

Years of data and experience show that, at least for some trips, guests prefer seeing a variety of travel options in one place. As demand has increased, Booking.com and Expedia Group's marketing spending has exploded, skyrocketing back to roughly $4 billion… each. And, far too many hotels, especially those hurt by ongoing declines in business travel, are providing lots of inventory to OTA partners in hopes of filling rooms. That formula—plenty of available inventory matched to guest demand and captured using huge volumes of performance marketing—has worked for OTAs for years. Why wouldn't it work this time around?

Well, for a couple of reasons. As during the pandemic, guests continue to look for differentiated experiences, particularly for "work-cations" and long-overdue leisure trips. They're open to trying something new. And, if you can address guests' key questions—health, safety, ability to work and play—you can attract revenue without relying on OTAs. Plus with Google offering free hotel booking links in Hotel Search, Maps, and Universal Search, guests may not need OTAs to find the variety of travel options they seek. In popular markets, I'm seeing hotels running at full occupancy with single-digit OTA business—or none at all. 

What hotels can do to continue this trend is to make sure they're taking advantage of Google's free tools, participating in metasearch, and making content available on their website that answers core guest questions. Of course, limiting OTA access to inventory for only those periods that they can't source revenues in any other way helps as well. While these steps might not prevent OTAs from regaining some lost share, it puts the relationship back on the right footing. Not a friend, not an enemy, but a partner to help you find guests you can't easily attract on your own.
IMHO, OTA penetration fell because travelers were particularly concerned during the first wave of the pandemic, so they were looking for reliable anti-COVID measures information. Usually, these measures were better documented on brand.com than on OTAs, so direct channels had a pretty evident advantage.

Rate disparity may have also played a role, together with more "relaxed" cancellation policies on direct channels, during a historical moment when flexibility was, indeed, indispensable. Hopefully, the worst is behind us, and -quite logically- distribution is coming back to what it used to be. 

I would not be surprised to see the exact pre-pandemic distribution mix hotels used to have back in 2019 in the next six months. 

However, the main question to me is: are we sure we really WANT more direct market share? 

Brand.com's CPA is through the roof! A pretty big distribution tech provider recently published a study examining the average cost-per-acquisition across different advertising channels and found out that, for example, a GHA reservation can cost up to 18%, a TripAdvisor's reservation 20%, 25% for Trivago, 18% for branded search and 22% for display... And that's just the advertising cost. Add an average 10% discount on brand.com (why should anyone book directly, otherwise?), the extra perks (welcome drinks, breakfast included, early check-in, late check-out, etc.), the investments involved with developing and maintaining a website, booking engine's commissions, hosting, CDN, SEO, etc. Well, you see where I'm going with this?

The more I work with hotels (and it's been 23 years now), the more I think this direct-booking-hysteria is just another vanity metric, fuelled by consultants and web agencies.

The math is simple: if the CPA of a direct reservation is =/> OTAs, then just stop trying. There's nothing wrong with selling through third parties only, and you could also make more profit.

So, back to my point: do you know the real cost of your direct bookings? If not, I would start investigating. You may be surprised...
Did OTA penetration fall drastically during COVID-19? I am not sure where this notion comes from, since PhocusWright reported that 50% of U.S. gross online hotel bookings in 2021 came from OTAs vs 49% in 2019. In Europe the OTA contribution is even higher, due to the lower market share of branded properties, known to enjoy much lower OTA exposure.

I believe the notion that the OTAs have lost or are losing market share is simply wishful thinking and here is why.

The OTAs amassed huge loyalty programs

Booking and Expedia used the pandemic to overhaul their loyalty programs by investing heavily in technology, talent and sales efforts. Expedia consolidated its three loyalty programs (Expedia, Hotels..com, Orbitz) into one single program and technology program, and now boasts over 155 million members. Booking..com's Genius loyalty program has similar membership count. Member discounts are available to all Genius members at over 390,000 participating properties around the world. Genius Level 1 members enjoy discounts up to 10%, Level 2 - up to 15% and Level 3 - up to 20%.

Who provides these discounts? Hoteliers, of course, all 390,000 of them, discounts which are in addition to the OTA commission they pay Booking..com.

Why is all this important? A loyalty or guest appreciation program means repeat business! Most importantly, do you see any of these 300 million+ members of the OTA loyalty programs to book directly with a hotel? I don't.

How many independent hotels have a CRM technology and any loyalty or guest recognition program in place? Less than 10%! This explains why, on any given night, only 10%-15% of roomnights at independents are from repeat guests. In the post-pandemic, repeat business will make or break a hotel. Repeat guests already know the property location, the hotel product and value proposition and are 5-15 times cheaper to acquire compared to new guests.

You cannot increase your repeat business without CRM technology and program in place. Only a meaningful CRM technology application - as part of your hotel tech stack - can ensure deep engagement with your past and future guests. CRM tech not only provides automated pre-, during- and post-stay communications, guest satisfaction surveys, guest retention marketing automation and drip marketing campaigns, but takes it a step further via guest recognition program management and loyalty marketing. All of these fully automated CRM initiatives keep "the conversation going" with your upcoming and past guests, keep them engaged and steer them in the right direction: to book your hotel when it's time for them to visit your destination again. In addition, you can use your CRM first party data about your best guests to launch similar audiences marketing on Google, Facebook, Instagram, etc. to target potential customers with similar characteristics as your best guests.

In my view, post-crisis developers, owners and managers will flock in droves to the major chains, attracted by their deep pockets, ability to implement safety and cleanliness protocols, huge loyalty programs able to generate 58%-62% of room nights, dominance in the corporate travel and group markets, comprehensive technology stack, expertise in maintaining and increasing occupancy and RevPARs in post-crisis, unparalleled direct channel distribution, 2x lower OTA commissions and 3x-4x lower dependency on the OTAs.

The OTAs never stopped investing in marketing

In 2021, a full pandemic year, Expedia spent nearly 45.8% of net revenues on marketing, resulting in marketing spend of $3.9 billion in marketing presence. Booking Group reported it spent $3.8 billion on marketing in 2021, out of revenue of $11 billion i.e. 35%.

How about hoteliers? In "normal" years like 2019, hotels spend on marketing less than 2.5% of net room revenue. STR/CoStar recently released some troubling data, clearly showing that marketing spending in U.S. hospitality during the pandemic shrank significantly compared to 2019, dropping to as low as 50% in 2020 and rebounding slightly to 54% in 2021 of the pre-pandemic level. In other words, hoteliers spent on marketing 1.35% of net room revenue (54% of 2,5%).

Similar is the situation in technology investments. STR/CoStar data clearly shows that IT spending in U.S. hospitality has declined significantly throughout the pandemic to an average 50% level, compared to before the crisis.

Hoteliers' marketing and technology spending in Europe and APAC is even worse than in North America.

Already OTA vs Direct online distribution ratio at independent hotels is negative 3:1 to 4:1. Compare this to chain hotels' positive 1:2 to 1:3 ratio. Plus independents pay 2x to 3x higher OTA commissions + loyalty members discounts vs branded hotels.

Independents are already falling behind in the adoption of best practices in revenue management, CRM, digital and brand marketing and technology applications, crucial to service the tech-savvy and digitally-obsessed travel consumers: next gen technology applications like AI-powered RMS, CRM, chatbots, IoT devices, guest-facing applications such as guest messaging, issue resolution, virtual concierge, mobile check-in and self-serving kiosks, etc.

With all the lingering repercussions in hospitality from the pandemic, I do not expect hoteliers, all of a sudden, to double their marketing and technology spend in 2022.

The OTAs are benefiting from the accelerated digital transformation

The pandemic accelerated digital transformation by 10 years (McKinsey & Company) and today's travel consumers have become even more digitally-savvy than ever. Because of the shelter-at-home mandates around the world, the vast majority of the population - even late adopters - were forced to use online services to communicate and work or study remotely, search for news or information, purchase goods and services, order food, communicate with friends and family, watch streaming services and entertain themselves.

This "online planning and purchasing education" has created millions of converts and believers in online travel planning and booking, which will benefit the OTAs immensely, since they are investing billions in marketing to reach and engage these new audiences.

How about hoteliers taking advantage of this new crop of digital converts? Unfortunately, our industry is vastly unprepared for this new digital reality. Most hotels are desperately lagging behind as far as digital marketing and technology are concerned: knowledge, investments and talent. A huge gap exists today between hospitality industry's digital and technology preparedness and customer's expectations, due to systemic underinvestment in technology and digitization in our industry.

Many hospitality owners and managers are lacking the education in or knowledge of hospitality technology and digital marketing, and even the motivation and will to learn about the latest innovations, trends and best practices.

Conclusion

Unless hoteliers somehow overcome their systemic underinvestment in technology and marketing, I am afraid the OTAs will continue to gain market share in the post-pandemic era. Contrary to some hoteliers' wishful thinking, I believe the OTAs will (once again!) emerge stronger after two years of pandemic, similar to all of the previous crisis and calamities: 9/11, SARS, MERS, the recession, ZIKA, H1N1, etc.
OTAs offer a one-stop shopping experience for travelers to compare all available options in a neighborhood. When today's travelers want to book a hotel at the last minute, the shorter booking window also makes OTAs a more appealing choice than the book-direct option.

Hotel chains' loyalty programs are supposed to help. Yet, traditionally, they worked better for business travelers than leisure travelers, who were more sensitive to price. I make a few suggestions about hotels' loyalty programs here:

Offer (personalized) perks and benefits that matter to individual travelers
Simplify a reward program for easy communication and understanding
Highlight and promote a reward program's value
Engage with the loyal customers before, during, and after their stays
In spite of the challenges and setbacks posed by Covid-19, some opportunities and new avenues were created as well. This is true across most industries in the world and evidently true for the Hospitality industry, Every crisis creates an opportunity. Covid 19 created a lot of opportunities for Hoteliers. These opportunities compelled Hoteliers to look for diversified and novel revenue streams for their business.

With that, everyone involved in the hotel industry was compelled to collect customer data, not just that but to also analyze and use that data. When a front office manager checks in a guest, that's new data. When a housekeeper cleans a room, that's new data. When something happens (you name it), it's new data. Most of the Hoteliers I have talked to have well-optimized data now ready at hand. I believe that this data will become an inevitable gold mine for direct hotel booking.

While OTA's are a necessary evil, you can direct your Digital campaigns better with better analysis and understanding of data. That way, you would see more direct hotel bookings by guests, and ultimately, Hoteliers would be able to reach out better.

Another change is the shift from Business travellers to Leisure travellers. It's predicted that the immediate recovery after Covid would be a huge surge in vacation travel. A recent survey by McKinsey & Company states that of 4,700 respondents from 11 countries around the world, 57 per cent of them expected to be travelling within two months of the pandemic's containment, and 72 per cent will do so as soon they can meet friends and family.

Hoteliers also started using contactless solutions after the pandemic. One of the leading causes of this, apart from the spread of the virus, was the labour shortage. However, this boated well for Millennial travellers as they prefer DIY solutions, and these contactless solutions became drivers for direct booking. As surveys indicate, 70% of millennials would instead prefer a contactless hotel experience. With gen Z customers, this percentage is even higher. Clearly, technology is becoming an inseparable part of modern hotel amenities and is changing 21-century hospitality as we know it.

Guests who book on OTAs cannot seamlessly select rooms, check-in remotely, order room service, or check out from the convenience of their phones. Simply OTAs do not allow a seamless, integrated and utterly assessable service to the guest compared to direct bookings, therefore I believe OTA penetration will never come back to pre- COVID levels.
This World Panel Viewpoint is sponsored by Shiji
More information